BRUNI's Interview About Joao Donato
Interviewer: B.J. Major
Date of Interview (received in email): 5/21/00.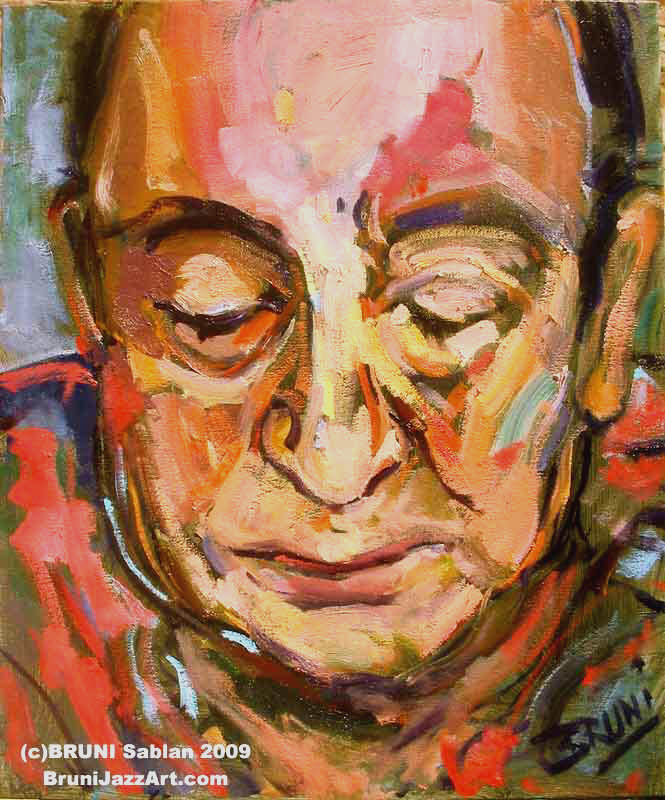 Joao Donato - 2009 (Click to view Painting)
Q. Bruni, I'd like to begin by asking how long you have known Joćo Donato and describing for me how you initially met him.
A. I met Joćo Donato in the very late '60's probably '69 after I had worked with Walter Wanderley, through a mutual friend, by the name of FaFa Lemos. FaFa took me to meet Joćo because they needed a lead singer for a new group they were hoping to start in Los Angeles, it was a group that was supposed to be opening for Sergio Mendes. It didn't happen. The group that eventually did that was called "Bossa Rio", but I was no longer involved.
Q. I know you have said that you were formerly were a singer before you began your art gallery work on a full time basis. In those previous years, did you sing with Donato in concerts and on recordings? Any touring involved?
A. Yes, before I totally committed to painting, and owning my own Gallery, I was a singer and actress in the Los Angeles area. But I always painted since I was a kid. I worked with Donato but not in recordings or concerts, because, at that time, he was not involved in that anymore in L.A. However, he was always composing, and all the musicians were always after him to get him to form a group. That's where I came in. FaFa took me to meet Joćo hoping he would agree to be musical director, and pianist with the group that FaFa was hoping to start. As I mentioned to you before, I'm pretty sure that Claudio Slon was involved in this group also. We did a LOT of rehearsing, but no gigs.
Q. How did his compositions influence or affect you?
A. Very, very deeply. His music was very new to me at that time, and I was totally enchanted with it. It affected me in a way that was so intense,that I started to write lyrics to his melodies as a joke. One day he caught me at it, and told me he liked it because it wasn't "put on", so he gave me a bunch of music (on tape), and told me to go home and put lyrics to them. I felt very honored, so honored that I never asked if he intended to pay me for them...... which he never did. But I had fun with it, and I have no idea what he did with the lyrics. As I mentioned before, after that period, I never saw him again.
Q. Do you have a favorite Donato composition? If so, what makes it your favorite?
A. No I don't. I don't have a favorite. All his stuff is so great that it's pretty hard to single anything out. But I feel that what makes his music so great is his simplicity and his total ability to involve you completely. Also all of it is of a pure and light quality that just makes me feel good when I listen to it. And it doesn't matter when he wrote what. I have a CD called "Coisas Tao Simples" that is from the '90's and it is absolutely wonderful! I also love the way he mixes salsa in his music. And he was always going around his house blowing on his trombone. He loved his trombone!!!! But, of course, as a pianist he has a unique and divine touch.
His used to stuff a sheet on the front of the piano to make it "quiet".....He started all that stuff. Everyone else just borrowed or downright took from him.... I remember he used to go around playfully bitching that Tom (Jobim) had taken the first l6 bars from Amazonas and used it on one of his hits. I can't remember which one now. I wish I had met Tom, but all I got to do was talk with him on the phone when he would call to talk to Joćo. Joćo didn't like to come to the phone, so I ended up talking to so many great musicians, and at my young age I was in heaven!!!!
Q. Have you ever painted a portrait of Joćo Donato?
A. No. But I will, I always wait for a sign and I guess this is IT!!! I wasn't painting musicians at the time I knew him. Then came my tribute to American Jazz, and amongst all those Gods, of course, I have included some of the Brazilian Gods.... I've done Jobim, Milton Nacimento, Maria Bethania, Maisa, Elis Regina, Gal Costa, Toninho Horta, Flora Purim, and probably more than I recall right now. But the reason I had not done Joćo, was because I had so completely lost touch until I found that CD I mentioned recently. I had asked!!! I had asked everyone who came to my gallery from Brazil, including a newspaper reporter when the soccer thing happened here, and everyone always said they didn't know where he was!!! Or even if he was still playing. So I just waited 'til I heard something.
Q. How would you characterize Joćo as a musician, in his playing?
A. A GOD.
Q. How would you describe your own relationship with Joćo?
A. Nuts! Crazy, weird, inspiring... I learned a lot from him. Mainly do what you do best, and don't waist your time trying to be something you're not. I wish he could know how much that moved me in the right direction ! Thank you, Joćo. !
Q. Is there anything else you would like the readers to know about Joćo?
A. He's one of our BEST, and he's still here. Let's support anything and everything he does. They don't make them like that anymore.
Thank you, Bruni for the interview!
BRUNI Gallery
394 E. Campbell Ave
Campbell, CA 95008
(408) 370-4700
Fax (408) 871-7903
http://www.brunijazzart.com
bruni@brunijazzart.com